Written By: Lisa A. Goldstein
Eleanor Roosevelt's well-known quote, "Behind every great man is a great woman," applies well to Alexander Graham Bell and his wife Mabel. Often eclipsed by her famous husband, she had her own accomplishments and is responsible for much of his success. And they would not have met if not for her deafness.
Mabel's Beginning
Mabel Gardiner Hubbard was born in Cambridge, Massachusetts in 1857 to wealthy parents. After almost dying from scarlet fever, she became deaf at the age of five. Thankfully her parents didn't pay attention to the widespread belief that she wouldn't be able to speak. Her mother found tutors to teach her to lipread and talk. As a result, the highly intelligent Mabel was essentially mainstreamed.
Mabel's deafness actually spurred her attorney father to help found what is now the Clarke School for the Deaf. Biographer Lilias M. Toward said that Mabel helped in her own way as well. At age nine, she testified before a committee of the Massachusetts Legislature. Members asked her questions about history, geography, and arithmetic, "which she answered with assurance; her voice, though not perfect, was intelligible."
Meeting "Alec"
Mabel had attended schools in the U.S. and Europe. Her father then hired Alexander Graham Bell to assist with articulation as he was known as the best tutor for the deaf in Boston. She was 15 and he was 25. It wasn't love at first sight. According to the National Geographic Society Newsroom, she described him: "He was tall and dark with jet-black hair and eyes, but dressed badly and carelessly. I could never marry such a man!" She even wrote in her journal, "I both did and did not like him."
Despite her initial impressions, the couple eventually fell in love. She would call him "Alec." According to History, living and working with Mabel and others with hearing loss is what got Bell interested in acoustics and transmitting sound waves. This, of course, led to his invention of the telephone. He even wrote on the back of a picture of Mabel: "The girl for whom the telephone was invented." In fact, the two married only a few days after the Bell Telephone Company was established in 1877 and had four children: two boys who died in infancy, and two girls, Elsie and Marian, who was known as Daisy.
Bell's telephone invention garnered attention because he attended the U.S. Centennial Exposition in Philadelphia, thanks to his then-fiancée. He was busy with teaching and wasn't planning to go. She secretly purchased his train ticket, packed his bag, and took him to the train station where she told him he was going on a trip. When he started to argue, she literally turned a deaf ear to him.
Beautiful Mountain
In 1885, the family vacationed in Nova Scotia and were entranced by the climate and landscape. Bell bought 50 acres of land near the village of Baddeck on Cape Breton Island and constructed an estate he called Beinn Bhreagh, which is Scots Gaelic for Beautiful Mountain. They visited every year, sometimes for six months at a time.
This is another place where Mabel made her mark, as she was very involved in the community. She helped establish the Young Ladies Club of Baddeck, one of the first Canadian women's clubs. It exists today as the Bell Club. After Bell talked to the club about the parents' organizations he encouraged at American schools for the deaf, the Dictionary of Canadian Biography says that members formed the first parents' association in Canada.
Known for her ability to make people comfortable, Mabel was a master lipreader. "Mabel would host dinner parties and situate herself at a spot around the table where she knew the light would shine better on the faces of her guests, allowing her to better read their lips as they spoke," says Matt Maclean, who was born and raised in Baddeck and has met Bell's descendants. He says part of the attraction of Baddeck for Mabel was that she was apparently never treated differently by its residents because of her hearing loss.
Mabel also purchased a former church with a friend, named it after her mother, and donated it to the community for a library. Her lifelong interest in gardening flourished and she was renowned for growing unusual foreign plants. Like Bell, she was well known for her own experiments and scientific endeavors, Maclean says. She even started a Montessori school on the estate.
When Bell started thinking about powered flight, Mabel's encouragement and financial backing resulted in the creation of the Aerial Experiment Association. This made her the North American aviation industry's first backer.
Before Bell died in 1922 of complications from diabetes, Mabel whispered to him, "Don't leave me." Unable to speak, he reportedly traced the sign for "No," and then passed away. Mabel slowly lost her sight and died of pancreatic cancer six months later. They are both buried at Beinn Bhreagh.
Full Circle Connection
Maclean's connection to the Bells became more meaningful when his daughter Katherine was born with hearing loss. He's taken her to the AG Bell National Historic Site in Baddeck and told Katherine about the similarities she shares with Mabel. "I like to think that I see in Katherine some of Mabel's characteristics, an urge to learn and experience new things, strength and independence, and most importantly, a kind heart," Maclean says.
For Katherine—who now has a cochlear implant—being able to follow in Mabel's footsteps because of listening and spoken language (LSL) means everything to Maclean. "I never expected to have a child who was hard of hearing, but knowing Mabel's story helped me see the opportunities that came along with Katherine's hearing loss and provided both my wife and me with a calm demeanor and a drive to provide the support that Katherine needs to continue on her LSL journey," he says.
For more information, please visit AG Bell here.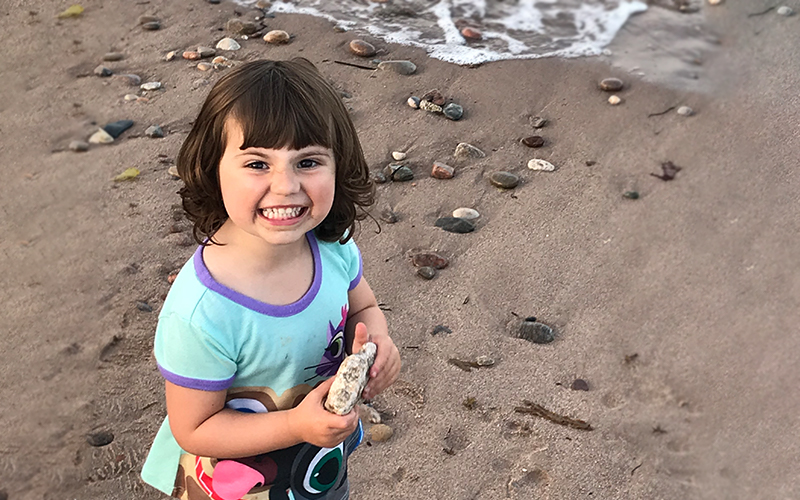 Mabel Bell, la fuerza impulsora detrás de Alexander Graham Bell
La conocida cita de Eleanor Roosevelt, «detrás de todo gran hombre hay una gran mujer», se aplica perfectamente a Alexander Graham Bell y a su esposa Mabel. A menudo eclipsada por su famoso esposo, alcanzó sus propios logros y es responsable de una gran parte de su éxito. Y no se habrían conocido sino hubiera sido porque Mabel tenía sordera.
Los inicios de Mabel
Mabel Gardiner Hubbard nació en 1857 en Cambridge, Massachusetts, en una familia adinerada. Después de casi morir por escarlatina, se quedó sorda cuando tenía cinco años. Afortunadamente, sus padres no compartían la creencia generalizada de que no podría hablar. Su madre contrató a tutores para que le enseñaran a leer los labios y a hablar. El resultado fue que Mabel, que además tenía una gran inteligencia, se educó básicamente en el sistema educativo ordinario.
En realidad, fue la sordera de Mabel la que animó a su padre, que era abogado, a colaborar en la fundación de lo que es actualmente Clarke School for the Deaf. La biógrafa Lilias M. Toward afirma que Mabel también colaboró a su manera. Con nueve años, testificó ante un comité de la Legislatura de Massachusetts. Los miembros le formularon preguntas sobre historia, geografía y aritmética, «que ella respondió con seguridad; su voz, aunque no perfecta, era inteligible».
El encuentro con «Alec»
Mabel había estudiado en centros educativos estadounidenses y europeos. Posteriormente, su padre contrataría a Alexander Graham Bell para que le ayudase con la pronunciación, ya que tenía fama de ser el mejor tutor de personas con sordera de Boston. Ella tenía 15 años y él 25. No fue amor a primera vista. Según la sala de prensa de la National Geographic Society, ella lo describió de la siguiente manera: «Era alto y moreno, con cabello y ojos de color negro azabache, pero iba vestido de forma pobre y descuidada. ¡Nunca habría podido casarme con un hombre así!» Incluso escribió en su diario: «me gustaba y a la vez no me gustaba».
A pesar de sus impresiones iniciales, la pareja finalmente se enamoró. Siempre le llamaría «Alec». Según History, vivir y trabajar con Mabel y otras personas con pérdida auditiva es lo que hizo que Bell se interesara por la acústica y la transmisión de las ondas sonoras, lo que le llevaría a inventar el teléfono. Incluso escribió en el dorso de una fotografía de Mabel: «La chica por la que se inventó el teléfono». De hecho, la pareja se casó pocos días después del establecimiento de la Bell Telephone Company en 1877 y tuvieron cuatro hijos: dos niños que murieron en la infancia y dos niñas, Elsie y Marian, a la que llamaban Daisy.
El invento del teléfono de Bell atrajo la atención porque acudió a la Exposición del Centenario de los EE. UU. en Filadelfia, gracias a su prometida por aquel entonces. Él estaba ocupado con la enseñanza y no se planteaba acudir. Mabel le compró en secreto un billete de tren, le hizo el equipaje y le condujo a la estación de tren donde le informó que se iba de viaje. Cuando Bell empezó a quejarse, ella literalmente hizo oídos sordos.
Montaña bella
En 1885, la familia veraneó en Nueva Escocia y se quedó fascinada por el clima y el paisaje. Bell adquirió 50 acres de tierra cerca del pueblo de Baddeck en la isla de Cabo Bretón y construyó una hacienda que llamó Beinn Bhreagh, que en gaélico escocés significa Montaña bella. La visitaban todos los años e incluso pasaban hasta seis meses seguidos.
Este es otro lugar donde Mabel dejó su huella, ya que estaba muy involucrada en la comunidad. Ayudó a establecer el Young Ladies Club de Baddeck, uno de los primeros clubes femeninos canadienses. Actualmente existe y se conoce como el Bell Club. Después de que Bell hablara al club acerca de las organizaciones de padres que impulsaba en las escuelas estadounidenses para alumnos con sordera, en el Dictionary of Canadian Biography se afirma que los miembros constituyeron la primera asociación de padres de Canadá.
Famosa por su habilidad de conseguir que la gente se sintiera cómoda, Mabel era además una maestra en la lectura de labios. «Mabel organizaba cenas en su casa y se situaba en un lugar de la mesa donde sabía que la luz iluminaría mejor los rostros de sus invitados, lo que le permitía leerles mejor los labios cuando hablaban», asegura Matt Maclean, quien nació y creció en Baddeck, y conoce a los descendientes de Bell. Añade que parte del atractivo de Baddeck para Mabel era que aparentemente sus residentes nunca la trataron de una manera diferente por su pérdida auditiva.
Mabel compró también una antigua iglesia con una amiga, le puso el nombre de su madre y la donó a la comunidad para que la convirtiese en una biblioteca. Tuvo un enorme interés por la jardinería toda su vida y era conocida por cultivar plantas foráneas inusuales. Como Bell, también era conocida por sus propios experimentos e iniciativas científicas, dice Maclean. Incluso fundó una escuela Montessori en la hacienda.
Cuando Bell empezó a plantearse el vuelo motorizado, el estímulo y el respaldo financiero de Mabel dieron lugar a la creación de la Aerial Experiment Association, lo que la convertiría en la primera persona patrocinadora de la industria aeronáutica norteamericana.
Antes de que Bell muriera en 1922 por complicaciones de diabetes, Mabel le susurró: «No me dejes». Incapaz de hablar, se dice que hizo el signo de «No» y, a continuación, falleció. Mabel perdió paulatinamente la vista y murió de cáncer de páncreas seis meses después. Ambos están enterrados en Beinn Bhreagh.
Conexión de círculo completo
La conexión de Maclean con los Bells adquirió un mayor significado cuando su hija Katherine nació con pérdida auditiva. La llevó al Alexander Graham Bell National Historic Site en Baddeck y le habló acerca de las similitudes que comparte con Mabel. «Me agrada pensar que observo en Katherine algunas de las características de Mabel: la necesidad de aprender y experimentar cosas nuevas, su fortaleza e independencia y, lo más importante, un corazón bondadoso», dice Maclean.
El hecho de que Katherine, que ahora utiliza un implante coclear, pueda seguir los pasos de Mabel gracias a la escucha y el lenguaje hablado (LSL) significa todo para Maclean. «Nunca pensé que pudiera tener un hijo con hipoacusia, pero conocer la historia de Mabel me ayudó a ver las oportunidades que surgieron con la pérdida auditiva de Katherine y nos aportó a mi esposa y a mí una actitud sosegada y un impulso para ofrecer a Katherine el apoyo que necesita para continuar en su itinerario de LSL», añade.
Para mas infomación, visite a AG Bell International aquí.